Lord of Chaos
Owner
Lifetime Supporter

Aug 26, 2014
3,140
3,695
113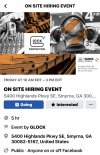 GLOCK, Inc. invites you to interview onsite:

Jobs include:
Assembly Line Workers & Test Fire Operators: Small parts assembly experience and/or Fire Arms experience preferred for these positions
Machine Adjusters: Machine Adjusters must have CNC adjusting/set up experience
Quality Inspectors: CMM and CNC experience preferred. Ability to use measurement devices such as calipers, micrometers, inspection gauges and other measuring tools.
Armed Security Guards: Prior Military and Law Enforcement preferred, demonstrated competency in safe firearm handling, ability to carry/wear firearm and equipment on a daily basis.
Machine Maintenance Intern: Must be currently enrolled and at least 50% complete with industrial maintenance, automation, electrical maintenance program.
Please forward your resume to
Careers@glock.us
prior to the event, put "Hiring Event" in the subject line.
You may be asked to arrive during a certain window of time depending on your availability.
If you experience any COVID related symptoms (coughing, sneezing, fever in excess of 99 degrees) between now and up to the day of the event, please contact us to request an interview by emailing us at
Careers@glock.us
WHAT TO EXPECT
• Temperatures will be checked upon entering the interview site
• Masks MUST be worn throughout the duration of the interview process
• Hand sanitizer will be available onsite
• Social distancing will be enforced
WHAT TO BRING
· (3) copies of your resume and certifications (if applicable)
· Driver's License
WHAT TO WEAR
• Business casual (dress pants/skirt, button down/blouse, optional tie)
LOCATION
• 5400 Highlands Pkwy SE, Smyrna, GA 30082. Parking is available in the rear corner of the building. The entrance will be clearly marked with "Now Hiring" sign.
WHY WORK FOR GLOCK
• Excellent benefits package including 401(k), 401(k) matching, Medical, Dental and Vision insurance, Life insurance
• Quality work-life balance with flexible scheduling and paid time off
• Employee growth programs such as tuition reimbursement and continued education training
• Employee assistance programs
• Employee discounts
About GLOCK, Inc.
GLOCK is a leading global manufacturer of firearms founded by Gaston Glock in 1963. The simple, safe design of GLOCK's polymer-based pistols revolutionized the firearms industry and made GLOCK pistols a favorite of military and law enforcement agencies worldwide and among pistol owners. GLOCK employees are the foundation of carrying out Mr. Glock's lifelong mission of Perfection and Performance. Employment with GLOCK is embodied by a vision of People First, Perfection Always and exemplifies the best in the industry. As a member of the GLOCK team, you become part of a diverse culture and family oriented organization dedicated to supporting your continued growth and success.