Weekend Warrior
Site Supporter
Apr 10, 2016
3,359
4,661
113
Zip code

30519
Located in Buford. Work in Alpharetta.
Throwing it up to see if any interesting trades exist out there. I'm not selling it. Not interested in milsurps. Not interested in a bunch of cheap guns.
Scar 17. Reciprocating ch model. Has the following upgrades (includes take-off parts as well).
- KDG 6.5 mlock handguard (factory rail sections included)
- Geissele super Scar trigger(factory trigger included)
- Stryker pmag lower (factory Scar lower included)
- Lantac Dragon ASR compatible brake
- KDG CH
- KDG front sight picatinny rail replacement. Yes, I have the front and rear sights as well)
- Magpul K2 XL grip
- Ambi safety (factory included)
- AL mag release (factory included)
- Front and rear QD swivel studs.
- PMM 1.35 gas jet
- PMM gas jet tool
- couple mlok rail sections.
- Brand new piston just to have as a backup.
Can also be included, trade dependant:
- NF NX8 F1 (mil)
- Badger C1 mount
- Atlas bipod with RRS base, Hawk hill feet, stubby legs with Atlas rubber feet
I had to completely remove the front sight to attach the PVS 30. Rest assured that the front sight and KDG front sight pic rail are included.
As far as what I want? I dunno. Entice me. I get extreme ADD when it comes to gasser, and I haven't stamped this one yet, so toying with trading it. I like B&T stuff. FN Ballista. AI rifles. If I can walk in and pick something off the shelf at a local gun store, I'm likely not interested.
Feel free to reach out with questions.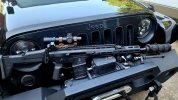 Last edited: